Are you in the process of moving or need a temporary storage solution? Storage pods might be just what you need! Here's everything you need to know about these portable storage units.
What are Portable Storage Containers, also Called Pods?
Storage pods are portable storage units that can be delivered to your home or business. They are made of weather-resistant materials and come in various sizes and styles. They are a great alternative to traditional storage units because they allow you to keep your belongings closer to you and can be used for both short-term and long-term storage needs.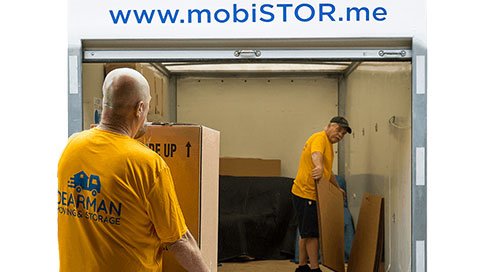 How Do Portable Storage Containers Work?
When you need a storage pod, you simply contact a storage company and let them know what size unit you need. They will then deliver the unit to your location and place it where you want it. You can then fill the pod with your belongings at your leisure. Once you're done, simply let the storage company know and they'll come pick it up and transport it to their facility for safekeeping until you need it again. In a nutshell, portable storage containers are like shipping containers which are strong and transportable.
Benefits of Storage Pods and Portable Storage Containers
One of the biggest benefits of storage pods is convenience. Instead of renting a traditional storage unit and having to transport your belongings there, you can have a storage pod delivered directly to your location. They are also weather-resistant, which means you don't have to worry about your belongings being damaged by rain or snow. Storage pods also allow for easy loading and unloading as they sit at ground level, eliminating the need for ramps or stairs.
Disadvantages of Portable Storage Container Pods
While storage pods offer many benefits, they do have some disadvantages. One is the cost – storage pods can be more expensive than traditional storage units. Additionally, because they are portable, they may not be as secure as a permanent storage unit located in a secure facility. Another disadvantage is that they take up space on your property, which can be an issue if you don't have a lot of room.
Portable Storage Container Security
When it comes to security, storage pods offer a few advantages. That's why they are sometimes referred to as mobile storage vaults. They can be locked so only you have access to the items inside. Additionally, because they are portable, you can move them if needed. This means that in the event of theft or vandalism, you can relocate the unit to a safer location and protect your belongings. Lastly, most storage companies also offer insurance so you can be sure your items are covered in the event of an unexpected event.
Overall, storage pods are a great option for those needing temporary or long-term storage. With their convenience and portability, they offer a flexible storage solution that's hard to beat. Just be sure to consider the costs and space requirements before making a final decision.

Pros and Cons of Using Portable Storage Containers or Units

Pros of Using Portable Moving Containers
Convenient and flexible storage option
Can be used for both short-term and long-term storage needs
Can be delivered and picked up at your location
Provides additional security for your belongings
Can be used for moving or renovating your home
The units are considered removable or relocatable storage containers

Cons of Using Movable Storage Cubes
Can be more expensive than traditional self-storage options
Limited space in each unit may require renting multiple units
May not be suitable for storing large or bulky items
Access to your belongings may be limited if the unit is in storage
May require permits or approvals for placement in certain areas.
Portable Storage Containers - Frequently Asked Questions
What are the benefits of using portable storage containers?
There are many benefits to using portable storage containers. They provide a convenient and flexible storage solution that can be easily transported and placed wherever needed. They are also weather-resistant and secure, protecting your belongings from the elements and theft. Additionally, mobile storage units can be customized to fit your specific storage needs and can be rented for short or long-term use, making them a cost-effective option for both personal and business use. These on-the-go storage units are relocatable, making your move simple. Many people refer to the storage boxes as roll-off storage unit containers due to their ease of pickup and moveability.
How do you choose the right size portable storage container for your needs?
When choosing the right size portable storage container for your needs, it's important to consider the amount and size of items you need to store. Take an inventory of your belongings and estimate the amount of space they will require. Additionally, consider the duration of storage and whether you may need to access your items during that time. It's also helpful to consult with the storage container provider and ask for their recommendations based on your specific needs.
Are portable storage containers weather-resistant?
Yes, portable storage containers are generally weather-resistant. They are built to withstand various weather conditions, including rain, snow, wind, and extreme temperatures. However, it's essential to ensure that the container you choose is made of high-quality materials and has proper sealing to prevent any water or moisture from entering the container. Additionally, it's recommended to place the container on a level surface to prevent water from pooling around it.
Can you store furniture in portable storage containers?
Yes, you can store furniture in portable storage containers. These mobile storage containers are designed to hold a variety of items, including furniture, and can be a convenient and cost-effective option for temporary or long-term storage. However, it is important to ensure that the furniture is properly secured and protected during transportation and storage to prevent any damage.
How long can you rent portable storage containers for?
Some companies may require a minimum rental period, while others may allow you to rent on a month-to-month basis. It is best to check with the specific company you are interested in renting from to determine their rental terms and options. Typically, these are temporary storage units used for a short time while you pack and move your belongings.
Once I get a storage container, how do I load it?
Once you get a storage container, you need to prepare it for loading either by adding shelves or securing ropes or straps to the sides to prevent shifting of items during transport. After that, you can begin loading your items in the container, starting with heavier items first and filling irregular spaces with smaller and lighter items. Make sure to fill every space until the container is completely full in order to maximize space efficiency.
Where can I store the mobile storage unit?
You can store a portable storage container or pod at a storage facility or on your own property if you have enough space. Many storage facilities offer secure and climate-controlled options for storing portable containers. If you choose to store it on your own property, make sure you have a level surface and adequate space to accommodate the container.
What sizes do portable storage containers come in?
Portable storage containers come in various sizes, ranging from small units that can hold a few items to large containers that can store furniture and appliances. The most common sizes are 10 feet, 20 feet, and 40 feet. Some companies may also offer custom sizes based on specific needs.

Flexible Moving Storage Solutions That Go Where You Go
Moving can be a stressful and overwhelming experience, but with flexible moving storage solutions, the process can be made easier. These portable storage pods are designed to go where you go, providing you with the convenience and flexibility you need to make your move as smooth as possible.
Whether you are moving across town or across the country, these storage solutions can help you store and transport your belongings with ease. They are also perfect for those who need to store their belongings temporarily while they are in between homes or waiting for their new home to be ready. With flexible moving storage solutions, you can have peace of mind knowing that your belongings are safe and secure, no matter where you go.
A Comprehensive Examination of Storage Pods and Storage Containers
The evolving global landscape, with its ever-increasing need for adaptability and mobility, has led to the growing popularity of storage pods and storage containers. These innovative solutions offer a flexible, convenient approach to various storage needs, accommodating possessions, inventory, and providing workspaces during construction or renovation undertakings. This article will delve into the essence of storage pods and storage containers, discussing their features, uses, and the advantages they bring.
Storage Pods and Storage Containers Explained
Storage pods, also referred to as portable storage units, offer mobile storage solutions tailored for temporary storage and transport needs. Characterized by their convenience, these units are typically brought to a location chosen by the customer, who can then fill them at their own pace. Once loaded, these pods can either be kept on-site for easy access or relocated to a secure storage facility for safekeeping.
Storage Container Materials
On the flip side, storage containers are traditionally the steel or aluminum containers frequently used in the shipping industry. These containers, typically larger and more robust, are commonly used for long-term storage or shipping large quantities of goods. In recent years, however, these containers have seen an expansion in their usage, with innovative applications ranging from makeshift offices to homes, and even retail stores.
Portable Storage Containers Are Durable and Weather Resistant
The durability and weather resistance of both storage pods and storage containers are fundamental features that set them apart. They are commonly constructed from high-grade materials like aluminum, steel, and in some cases, durable plastic, ensuring they can endure extreme weather conditions. This solid construction keeps stored items safe from the elements. Storage containers, designed for the rigors of overseas shipping, typically display even greater resilience.
Storage Pods and Storage Containers: Distinguishing Features
The versatility of these units is another significant feature. Storage pods and containers are available in various sizes to accommodate different needs, from housing household items during a move to storing business inventory. Security is also a priority in their design, with robust locking mechanisms standard to protect stored possessions. Storage pods, in particular, are designed with transport in mind, offering the added advantage of easy relocation.
Applications of Storage Pods and Storage Containers
One of the most common uses for storage pods and containers is in moving and storage. They provide an ideal solution for those in the process of moving or downsizing. This alternative eliminates the stress associated with traditional moving methods, which may necessitate multiple trips.
During home renovations, storage pods and containers can be invaluable for safeguarding household items from dust and potential damage. For businesses, these units can serve as storage for excess inventory, seasonal goods, or equipment, helping to reduce clutter and optimize space usage.
Using Storage Containers for Distaster & Recovery
Storage pods and containers also play a crucial role in disaster and emergency recovery. Following a disaster, these storage units can provide quick, temporary storage for damaged or salvaged items. Additionally, on construction sites, storage containers frequently function as makeshift offices or storage for tools and materials.
In recent years, the repurposing of shipping containers has gained popularity. Their durability and versatility make them suitable as alternative living spaces, pop-up stores, or workspaces.
The Advantages of Storage Pods and Storage Containers
The convenience offered by storage pods and containers is their foremost benefit. With storage pods being delivered and collected from your location, there's no need to rent a truck or make several trips to a storage facility.
Furthermore, storage pods and containers offer flexibility for either short-term or long-term use, depending on individual needs. They can be a more cost-effective solution compared to traditional storage methods, particularly for long-term needs or when dealing with large quantities of goods.
Simple, Secure Storage Solutions
The security offered by these units is a significant benefit. With their sturdy construction and secure locking mechanisms, they provide a safe place for your belongings. Space optimization is another advantage they offer, enabling homeowners and businesses to reduce clutter and create a more organized environment.
To sum it up, storage pods and storage containers bring together versatility, convenience, and cost-effectiveness, making them an excellent choice for a wide range of storage needs. Whether you're moving, renovating, or seeking alternative spaces for living or working, they offer practical solutions tailored to modern needs.