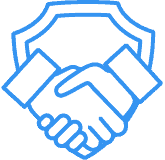 Out Of State
5 Star Difference
On Time - Every Time
On time, every time – Your Time Is Valuable, So Our Commitment To You Is To Always Be On Time – Guaranteed
Your Safety Matters
Our Crew is throughly Background Checked – We won't have someone in your house we won't have in ours
Priority Scheduling
Day Certain Delivery/Priority Scheduling No Block Out Dates – Don't Spend Weeks in a Hotel Waiting On your Stuff
Full Replacement Valuation
Full Replacement Valuation – You & Your Belongings Matter – So We've Got You Fully Covered
Guaranteed Price
Guaranteed Price – Know Before You Go Our 5 Star Guarantee To Back It All Up
25%
Rebate
If We Only Accomplish 4 of the 5 of these you will get a 25% Rebate
50%
Rebate
If We Accomplish 3 or less of these 50% you will get a 50% Rebate
On Time, Every Time
Your Time Is Valuable So Our Commitment To You Is To Always Be On Time – Guaranteed
Guaranteed Price
Know Before You Go Pricing
Priority Scheduling
You Get The Dates You Desire
Full Replacement Value
You Value Your Belongings And So Do We. We Include Full Replacement Coverage In All Of Our Quotes
Background Checks
Your Safety First – We won't Have anyone In your home that we wouldn't have in ours
| | | | |
| --- | --- | --- | --- |
| | Professional Tier Pricing | Exclusive Tier – 5 Star Guarantee Services For Qualifying Customers | Platinum Tier – 5 Star Guaranteed services for Qualifying Customers |
| | Standard Pricing- No Guarantee; Replacement Value Coverage – Additional Charge Full Premium | Guaranteed Pricing – Full Replacement Valuation Included | Full Replacement Valuation Included, and 2 of following Free Debris Removal; Free Professional Packing Kit; 10 Wardrobes Packed; 6 Hours Cleaning Service at Origin |
| 5 Star Guarantee | | | |
| On Time – Every Time | – | | |
| Priority Scheduling | – | | |
| Your Safety Matters | – | | |
| Full Replacement Value Protection Included | – | | |
| Guaranteed Pricing | – | | |
| 4 Stars Or Less | | | |
| 25% Rebate | – | | |
| 3 Stars or Less | | | |
| 50% Rebate | – | | |
| Certified Mover | | | |
| Free Estimates | | | |
| Video Surveys | | | |
| Background Checked Labor | | | |
| 55+ Years Experience | | | |
| Guaranteed Pricing | | | |
| Full Value Protection | | | |
| Professional Packing Services | | | |
| Speciality Items | | | |
| Personal Move Coordinator | | | |
| Online Claims Filing | | | |
| MyUnited | | | |
| City Pointe Real Estate Services – Cash Back, Mortgage Services, Temporary Housing | | | |
| Industry Technology Leader (Stride, Flex, SNAP, etc.) | | | |
| Storage In Class A Whse | | | |
| Free "Explore your Destination" | | | |
| Free Packing Tips & Videos | | | |
| Free Moving Tips & Videos | | | |
| Custom Crating Services | | | |

The Dearman 5 Star Guarantee
What good is talking about great service if you don't back it up?  Our guarantees are there to show you that not only do we talk about great service, but we want to prove to you that we value you as a customer.  Get the confidence of moving with the Dearman 5 star guarantee. On time every time, safety matters, priority scheduling, full replacement valuation, guaranteed price.  Ask if your move qualifies for our 5 Star Guaranteed Service
Moving across the country is stressful, but Dearman Moving & Storage alleviated the stress with their quick responses, professionalism, and care for my property. Jessica in the back office is excellent to work with and was very helpful throughout the process. Further, the movers, Cody and Shawn were extremely careful with my items, ensured the load at origin and unload at destination went without issues, and even helped break down the boxes and take them away. I highly recommend Dearman Moving & Storage for any move, and ask for Cody.
Josh 
Dearman was a very professional company with which to work. They were detailed and attentive from the booking of our move to its completion. The two movers were excellent listeners, adaptive to changes, and very careful with our belongings. Thanks to them we were able to get the job done, move some smaller items around in the house, and even remove my Christmas tree! I highly recommend this company.
Ellen
We had a great team of movers!!! Colton, Terrance, Nate and Billy.  They were all polite,  professional, kept working while I had to decide where to place something in our new home.  They were very polite when I asked them to move something to another place from where I originally thought I wanted it, this meant a lot to me. They finished 2 hours earlier than expected.  We would have them again and we want everyone to know what a great job they did! !!  It was well worth the money.  We are a very satisfied customer.  Thank you Dearman moving!! Merry Christmas
Jane
Put You & Your Family in Good Hands
Tell Us Your Needs
Ask a question, get a quote or just say hello. Someone from our team will get back to you as soon as possible. For immediate support please use the chat bubble at the bottom right of this page or give us a call at (419) 871-9063.